Yes, I know, Cisco Live U.S. isn't for another ~5 months. But prep work for what I like to call "Summer Camp for IT Geeks" (aka Cisco Live U.S.)  is in absolute full swing and has been for awhile now. Want a little behind the scenes tour?
Wait… I'm getting ahead of myself……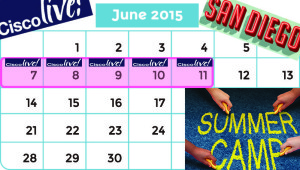 Prepping For CiscoLive U.S.
As I'm sure you can guess, there is a lot of behind the scenes work that goes into getting "Summer Camp for IT Geeks" ready for you. What is some of the work that is going on right now to make Cisco Live U.S. 2015 another awesome year?   How about a little "behind the scenes tour" from the small little portion of Cisco Live U.S. that I help out with?
I'm what is referred to as a Cisco Live U.S. "Session Group Manager" (SGM).  Yet another acronym, I know. So what is a SGM and one does a SGM do?  Ever filled out a survey for a technical breakout session at Cisco Live U.S. and wonder who is going to look at those scores and those comments?
Well if the class had RST or IPM in the session id,  then the answer to that question would be me.  🙂 Technically I'm referred to as a SGM for session groups RST (routing and switching technologies) and IPM (IP Multicast).
What do I do as an SGM for RST and IPM? Pretty much I think about you, the attendee,…. a LOT.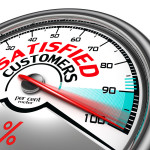 Why? I like the phrase Covey uses "Begin with the End in Mind".  Everything I think about, every question I ask, every decision I make, is made with one primary focus –  you, the Cisco Live U.S. attendee.  Not only do I think about you a lot…. 🙂  I also talk about you a lot with 3 other SGMs that live in the RTP, NC area.  One is my co-SGM for RST & IPM.  The other two are the SGMs for session group Product Architecture (ARC).
Ready for that behind the scenes tour?
Prepping for Cisco Live 2015:

June 2014 – Jan 16th, 2015



Let's use Cisco Live U.S. 2015 as an example for our behind the scenes tour.  Since I'm most closely tied to RST, IPM, and ARC I'll focus specifically on what the 4 of us do with those session groups.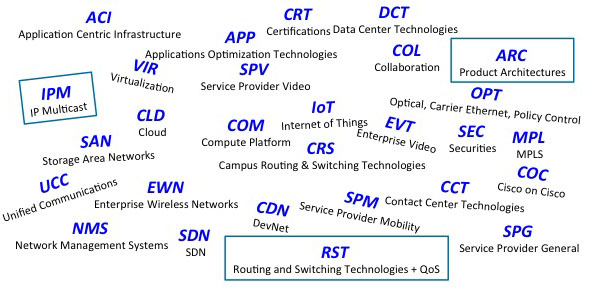 During Cisco Live 2014 SanFran
Planning for CLUS 2015 (Cisco Live US) really starts in earnest during CLUS 2014. With 2015 already in mind, we are taking lots and lots of notes. What are the attendees "saying" about the session in their survey results? The content, the session overall, the relevance of that session to their business needs? What about the speaker? Speaker overall, their presentation skills, their perceived technical abilities by the attendees?  What are the attendees saying in the comments section? Which sessions are in higher demand?  Which sessions are in lower demand?
Immediately After Cisco Live 2014 SanFran
Download the excel spreadsheet with all the surveys, metrics, and comments for all the varying sessions. Make a 1st high level  pass at "keep, update, replace, leapfrog" for Cisco Live 2015. What does "leapfrog" mean? Since ALL Cisco Live breakout sessions are available for free on the web, SGMs can use this in our efforts to always be bringing new content every year to the session groups we work with. Translation? Something I slate as a potential "leap frog" would mean that it is a potential to skip 2015 and come back in 2016.  Allowing for more new sessions for 2015 for you, the attendee.
October 8th: Call for Papers for Cisco Live U.S. opens.
This is when people submit ideas for new sessions for Cisco Live U.S. for 2015. This is always such an incredibly exciting time frame for me.   New sessions that Cisco Live U.S. attendees have never seen before… that haven't even been created yet.  🙂
November 14th:
Call for Papers for Cisco Live U.S. closes.
Slot allocations (# of 90min sessions, # of 120min sessions, # of technical seminars, # of labs) will have be assigned out to the varying session groups by now. The Cisco Live team works very hard to be inline with the desires of the attendees.  I've always been very impressed by this.
November 15th – January 9th: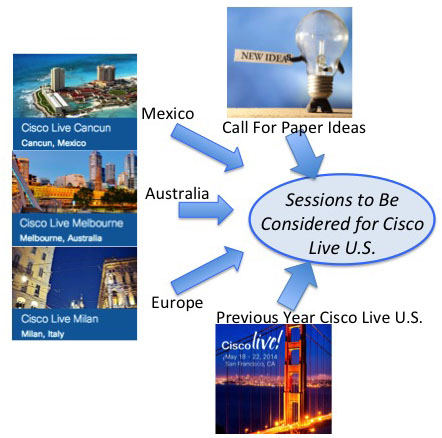 Sessions up for consideration for Cisco Live 2015 San Diego come all the varying Cisco Live sessions from around the globe plus the Call for Papers.
Go through all the varying session groups + the call for paper new ideas.
Look at the metrics, look at the survey results, read the comments.
With the Cisco Live attendee in the forefront of our mind, make decisions on your behalf. SGMs are, in reality, Cisco Live attendee "advocates" for the session groups we cover. You are who we work for. 🙂
January 16th: 
All sessions decided and finalized for Cisco Live U.S. 2015.
Question:  So how are RST and IPM doing against that deadline?       Answer: We are at ~98% complete. Very excited about some of the new sessions and new speakers for Summer Camp for IT Geeks.
Question:  Is the role of the SGM done once the decisions are made?       Answer: No.  Admittedly, though, the rest doesn't quite seem to be as interesting to give a "tour" on.
……. Have questions? Ask away!!!