For those of you who know me I always kid that I'm afraid of UC.  But a few things conspired together to make me decide to attempt the plunge.
IWAN PreBuilt ReBuilt  🙂  I completely tore down and destroyed the original IWAN PreBuilt Testbed so I could rebuild it.  Which meant I also lost my CallMgr and my voice/video phone setup I had inherited.
Voice/Video is typically in either 1st place or 2nd place as the most business critical application for the majority of customers i talk with.
NBAR2 interests me and I'd like to learn about and play some with QoS classification based on NBAR2 application recognition coming in.  Just finished reviewing a QoS chapter for the upcoming CiscoPress IWAN book and I just want to see, touch, and play.  🙂
Documentation – I'm so incredibly tired of not knowing how to do this.  Voice/Video is such a perfect application and visual to help me knowledge share with co-workers and customer so very many concepts – QoS, AV, AVC, Application Recognition, business critical traffic, impairment avoidance… the list goes on and on.  I need to know how to build up a simple and basic environment.
The truth however, is that I really don't want to do this on my own.  I want to learn… but I do have a number of things on my plate right now…. so I want to be efficient.  Time to turn to my friend Erik Peterson (@ucgod).
Apparently Collab/UC stuff likes Country Hats. So I figured I better "dress the part".
---
PLAY TIME!
The below diagram is the new rebuilt IWAN PreBuilt Testbed.  Why did I tear the other one completely down and rebuild from scratch?  Well really it is the fault of David Prall and Jean-Marc Barozet.  🙂   You see they have a CiscoPress IWAN book coming out. Which also means that the below environment is not only the core diagram of the CiscoPress IWAN book… but is also pretty much in all of their CiscoLive presos and doc wikis, etc.  So if you are reading any IWAN now by either one of them… you will, like me, soon have that diagram fully loaded in your mind.   🙂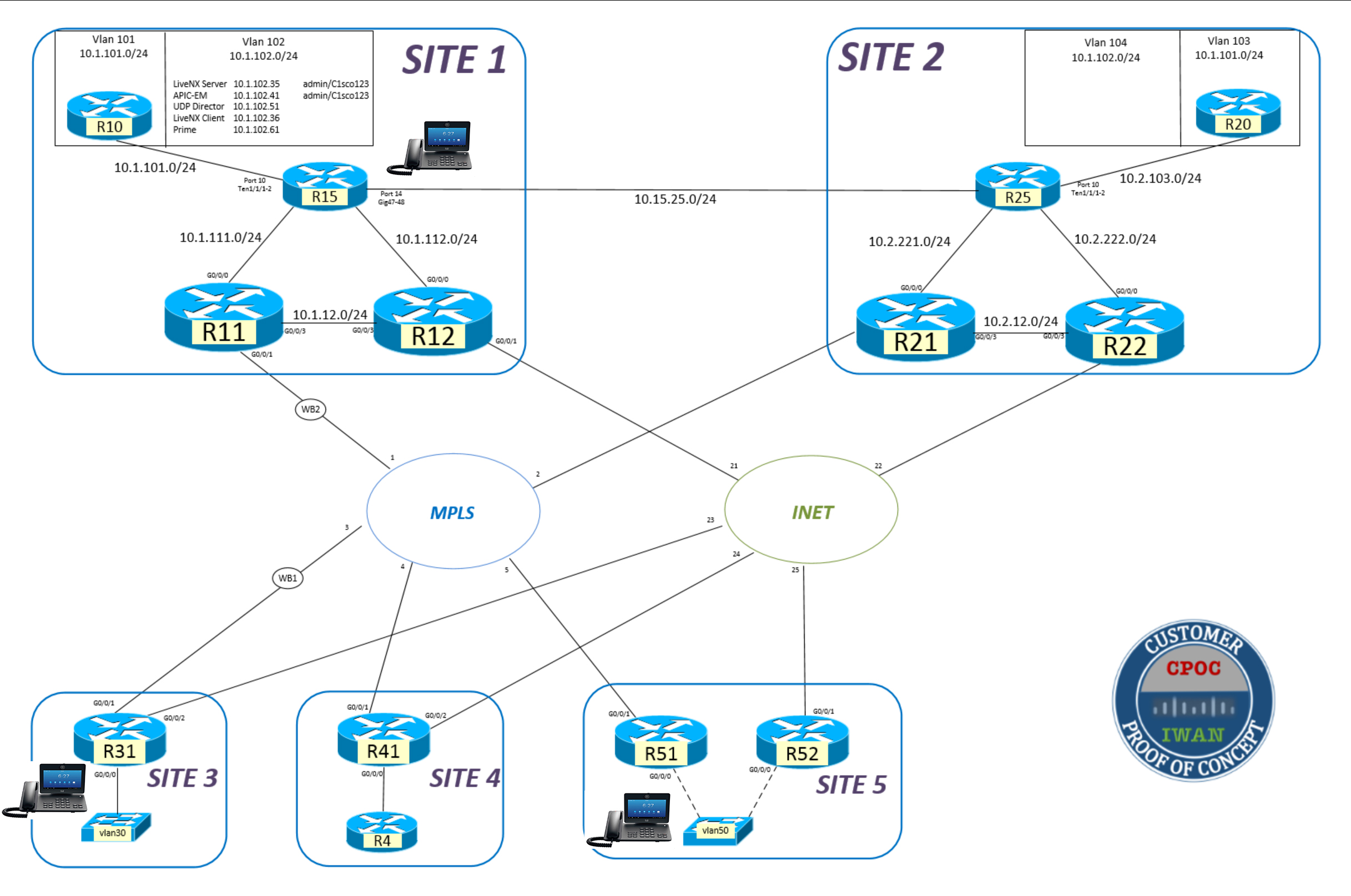 So "begin with the end in mind."  What do I ultimately want?
CUCM in Data Center #1 (Site 1)
1 DX650 in Data Center #1 (Site 1: IP subnet 10.1.241.0/24)
1 DX650 in the Site 3 Branch (Site 3: IP subnet 10.3.241.0/24)
1 DX650 in the Site 5 Branch (Site 5: IP subnet 10.5.241.0/24)
Ability for any of the 3 DX650s to call and have a point to point voice/video call with any of the other sites
Let's break this down to what I (right now) think the prep work steps are going to be before ever pulling Erik in.
Admittedly I assuming I'm going to get stuck once for sure before I ever get to ping Erik.  Where?  🙂  Licensing.
CUCM

CUCM template. CPOC already has a TEMPLATE in our vSphere environment that I can deploy a semi recent version of CUCM from.
Deploy a VM from the template and see if I can log in via the console.
Verify CUCM assigned IP address is still the 192.168.62.130 we typically have always used in our CallMgr VMs. Also check to see what default gateway set to.
Connect VM to a R15 – core switch in Data Center 1
Assign IP address 192.168.62.254 (CUCM's configured default gateway) to R15
Stumble around in CUCM console to figure out how to ping
Successfully ping between CUCM and R15.
Web Browse in and check license status.
Get Stuck.  🙂  Reach out to someone within Cisco to figure out how to license since I'm a Cisco employee doing this for lab work.


DX650s

Connect the DX650s into a PoE switch in my environment.
Reset to factory defaults – google to make sure I'm going it right.  🙂
Create the subnets for the phones on R15, R31 and R51. Check routing by at each router by doing an extended ping sourcing from the phone subnet to the CUCM IP host.
Create a DHCP pool on R15, R31, and R51 for the phones.  I'm going to need to hand out IP addresses, default gateway, and that special option 150 with the CUCM address in it
Reboot each DX650 and make sure I at least get an IP address.
🙂 Get Erik.
So what did I get done today?  The CUCM.  And yup… to the exact point that I figured I'd get to.  🙂 Licensing.

On the upside of this all
I get to learn
I get to document this for my future self and anyone else trying to do this stuff
I get to wear cowboy hats at work during this whole thing