In less than 2 weeks CiscoLive Europe 2018 will be in full swing!  And, as usual, I am so incredibly excited!  🙂  This happens to me before every CiscoLive…. round about two weeks prior to the start of the event.  I just turn into a super excited little kid.  Like a little kid looking forward to going back to their favorite summer camp.  🙂   I'm even already mostly packed.  Teehee.
CiscoLive Barcelona – Plans and Priorities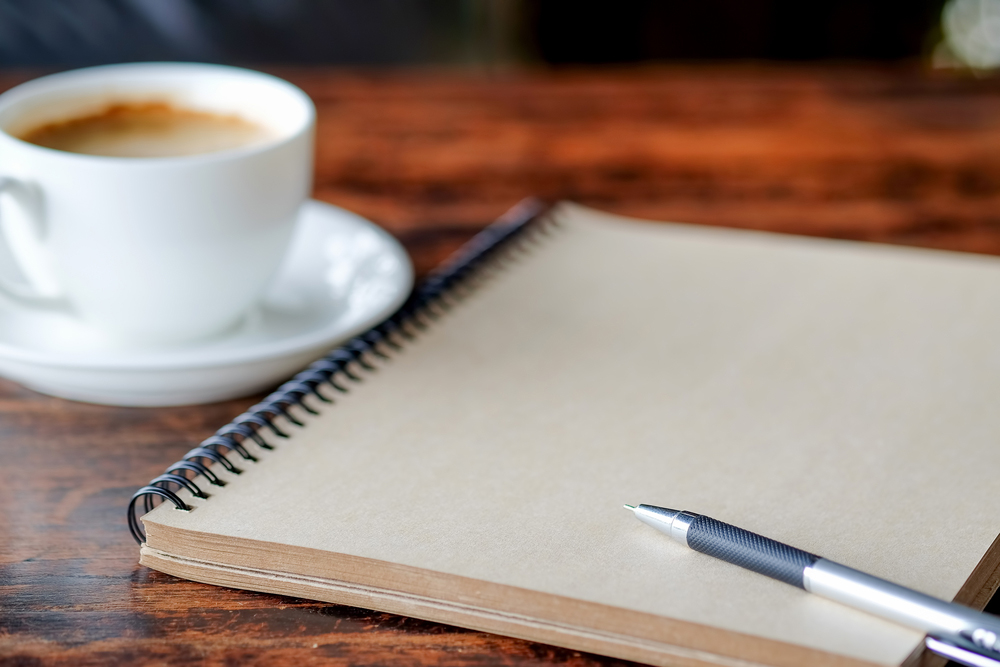 What is my absolute #1 suggestion to anyone going to a CiscoLive event?  My #1 suggestion regardless if it is your first CiscoLive ever, or like me, your 17th.  My #1 suggestion is – "Begin with the End in Mind".
Know what your priorities are and then schedule your week accordingly.
Review your priorities for the week during the week multiple times a day

before the day begins
at lunch
at the end of the day
Begin with the End in Mind. Why?  Because, at CiscoLive, there are so many more things to do than you will have time to fit in.   I personally believe it helps to have a priorities list going in….  A starting framework for decisions and choices you have to make.     Remember, what you get out of CiscoLive is all up to you. Your time is the most precious commodity you have during CiscoLive.  Where do you want to spend this ever so precious commodity?  On what?  Doing what?
Let's start working on your priority list together.  Ready?  Go grab a drink, a pad of paper, and a pen.  Sit down.. and relax.  Let's get you started with just some thinking first.
CiscoLive Barcelona 2018 It is just around the corner.  You are excited about it.  What are you most excited about?  Write it all down.  Right now.  Everything you are excited about.  Everything you are looking forward to doing, accomplishing, and getting out of the week.
Do not read forward yet.  Just stay here and write. 
Ready?  Now imagine in your mind CiscoLive just ended.  The week is over.
You are traveling home now. ….. How do you feel?  Anything nagging at you?  Rethinking the week at all?  Wishing maybe you had not stayed out so late at the Customer Appreciation Event cause you heard from a co-worker that the Friday morning Advanced Security: Integration, Tips, and Tricks was the best session he has ever been to?  Or maybe you are thinking you pushed too much the first few days, didn't recharge sufficiently, and then just didn't have energy the last few days?
You are now talking with your co-workers… How do you feel?  Anything nagging at you?  Maybe those 2 sessions you mentioned to your manager and co-workers that you'd go to and then come back and train everyone on.  Maybe your company can only send one of you every year and you told your co-workers you'd take detailed notes?   If you company paid for CiscoLive and all your travel and expense… are you feeling great about the event and where you chose to invest your time?
You are now talking with your best friend – your closest confident who maybe you told you were going to really dig into learning during the week.  Lots of breakout sessions…. lots of WISPs (walk in self-paced labs).  You talked so much before the event of all the free learning you could do.  All the growth you could make.  Are you pumped, ready and excited to share with your friend all about the week?  Or are you wondering now where all the time went at CiscoLive?
Do not read forward yet.  Just stay here and write. 
Everything you wrote down will feed, ultimately, into your personalized priority list.   Look at everything you just wrote.  See any patterns that "pop out" at you of things that are important to you?   Can you form any personal priorities for the event out of any of these?  Write down what you can now.  Mull it over.  Talk it out with your friends and/or co-workers.  Also,  if you have NEVER ever been to a CiscoLive before…. find someone that has.  Pick their brain.  Not just what to do, but also what not to do.  You may hear a lot of people talk about they wished they had paced themselves better.
CiscoLive Barcelona – My Plans and Priorities
For CiscoLive 2017 Las Vegas my priorities were Teach, Recharge, Learn, Play and Have Fun ("My Cisco Live 2017 Schedule").
For Cisco Live 2018 Barcelona my priorities will be different because I have recently moved to Security and because I am in a new job (Solution Architect for PoV Services).
My CiscoLive 2018 Barcelona priorities are
Let's break "Learn" down further
Network with Customers who work in Security and Learn what their challenges are
Shadow Cisco Security Subject Matter Experts doing MTEs and in the Whisper Suite Meetings …. Learn more about our solutions and how they help
Walk the World of Solutions with a Customer who does Security – see it all thru their eyes and ask questions.  Learn what  security challenges they have in their network and what 3rd party tools help them with those challenges
Hang out at the dCloud booth for a couple hours during the event and Learn more about what dCloud offers to customers.  Listen to them and Learn learn how they use it.
Attend some Security Technical Breakouts.  I have gone through the extensive CiscoLive Barcelona session catalog scrubbing for security sessions,  There are a lot.  Yes it took me a long time to really go thru them.   After I reviewed them all… i went back to the first few that really "called to me". Time now to read their abstract.  If it still "called to me" then I would favorite it.  Each and every one of the ones I favorited I put on my iCal calendar.  Why?  I'm a Cisco employee.  I work the CiscoLive event.  Sitting in the technical seminars is for the customer.  HOWEVER… if I happen to find myself free and available for a session.  I want to already have chosen exactly what session I would want to go to for each and every timeslot.
What does my iCal look like?  What did I pick?  Everything in pink below is a favorite and something, if i find myself free and available, I would just love love love to go to!  Well okay… except for the Monday session which is the 4 hour Technical Seminar that I'm helping to teach.  🙂  That one is a favorite I will absolutely for sure be found at.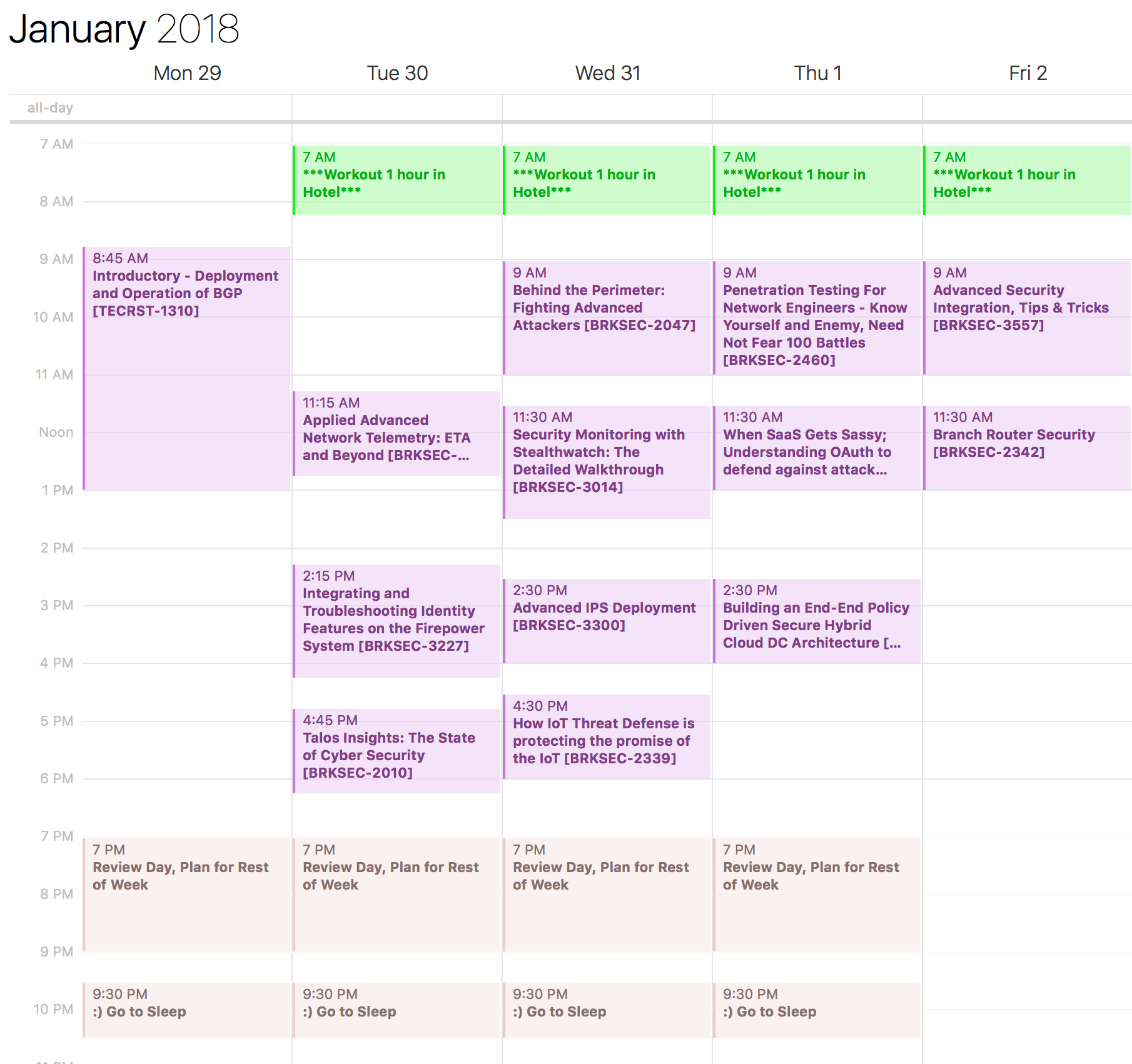 You can see 2 things pretty clearly from the calendar above.
Review Day, Plan for Rest of the Week:  I really do review my day and re-plan the rest of the week every night.  I sit down, review the day and look at the pros and cons of switching my priorities for one day or the entire week and what the ROI would be.
Social Sidei:  As you can see the social side, admittedly didn't make the cut for Barcelona as a top "priority".  Don't get me wrong… I adore the social side of CiscoLive!   Its odd… my walls are still up more at CiscoLive Europe than CiscoLive US.  But that is likely cause it was CiscoLive US in 2014, after 8 years of being a CiscoLive/Networkers 'hermit'  where I was first indoctrinated into the Social Side of CiscoLive and found some wonderful and awesome people!    This will only be my 5th time at CiscoLive Europe… hopefully i can let me walls down soon and not have to wait til the 8 year mark again.  ROFL.
Stickers, Magnets, and Badge Holders  🙂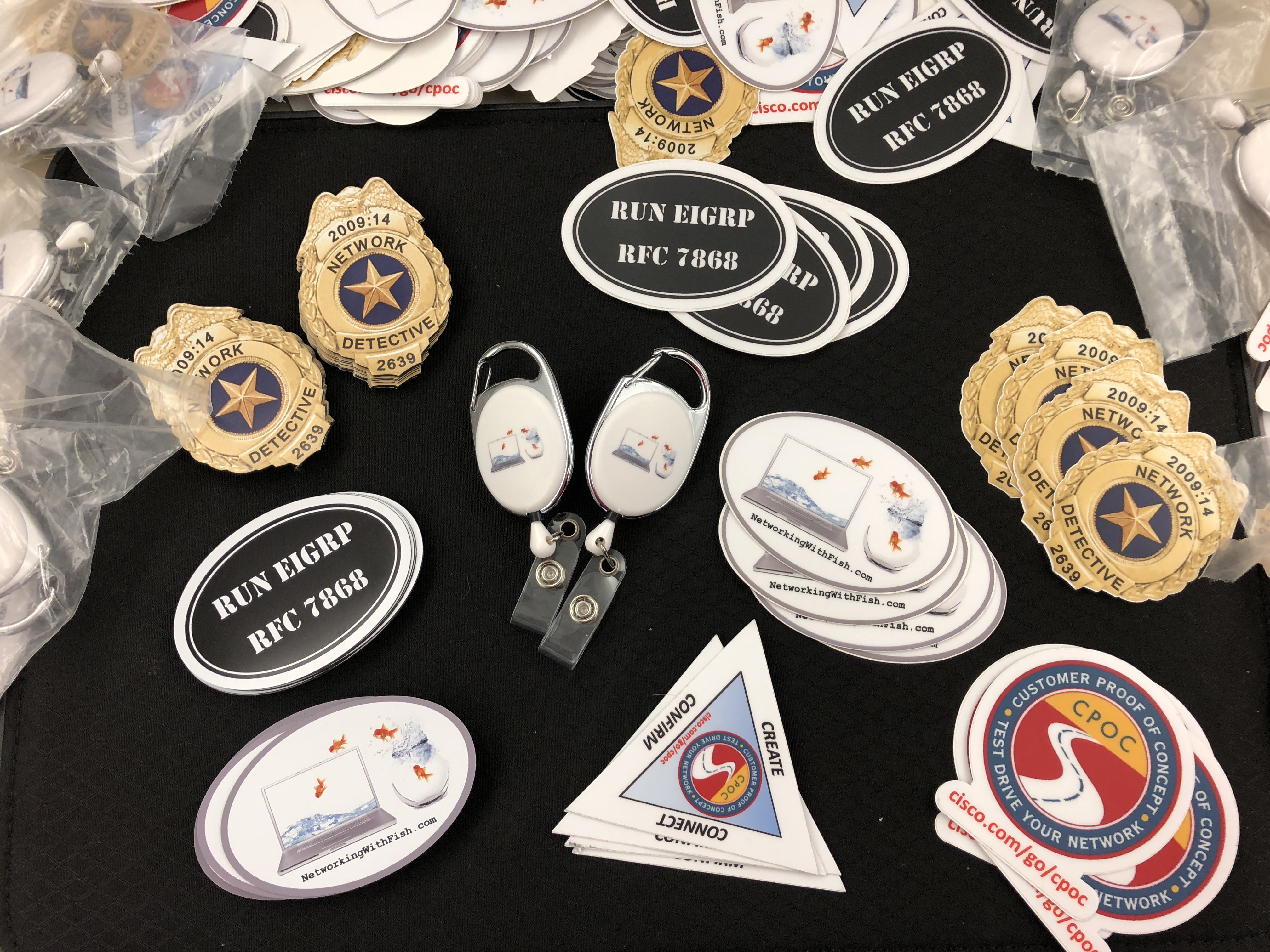 Going to CiscoLive Barcelona?  Want a sticker or magnet or badge holder.  🙂   Just find me in Barcelona and I'll load you up.  🙂  I have tons.