Question: What's at the "top" of your "Ladder of Success?"
What is mine you ask? Let's start with what it used to be.
THEN: CEO
When I was ~25 years old that was at the top of my ladder: CEO.  Why? I don't recall actually asking myself that question. Don't think I really questioned anything about that.  I just started my climb up a figurative ladder leaning against a wall with "CEO" at the top. No thought. No questions. Just started climbing rung by rung trying to reach the "top".
It wasn't until years later I started asking myself if I really wanted to be CEO.  I think it is funny how I never even asked myself "why?". Looking back I can see now I wanted it because it was "the top" and because of the money, power, and prestige that I think we are taught when we are younger is what we are supposed to be striving for. Money, power, and prestige will bring us "happiness".  Did I actually want to be CEO or did I just want the "trimmings" that came with the job? I realized later that, for me, it wasn't the job I wanted, it just wanted the trimmings.
NOW: ???
For me, today, I don't believe I view there is specific "target" to "achieve" that is "up there" at the "top of the ladder of success".  I don't seem to see a specific "destination" that I'm trying to achieve  For me…. today…. I think the journey itself has become more the destination. No longer some "top of the ladder" goal.  I think it is now. Today.  Focusing on working hard today. Making a difference today. This hour. This day. This week. This month.
Do I think about the future? Do I plan for the future? Of course I do.
Ever been on a hike that lasts more than a few days?  If you have you know there is some thinking about the future and the trip that you have to do. Both prior to the trip as well as while you are on the trip.
Question: While you are hiking are you focused on the hike being over? On the location/destination at the end of the trip?  Is the goal the destination? Will you be "happy" only once you "achieve" that destination?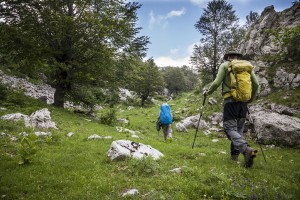 TOMORROW?
You know, I don't know where my journey and my questioning will lead me next. Yes, I have a plan, a map, and a compass. But that doesn't mean I'm fixed on just one location to get to. I haven't found life works like that. So I'll continue on the journey and keep my eyes, ears, and heart open to what is around me and what interests me or inspires me.
What about you?